BYUCK JIN CO.,LTD - Company Introduction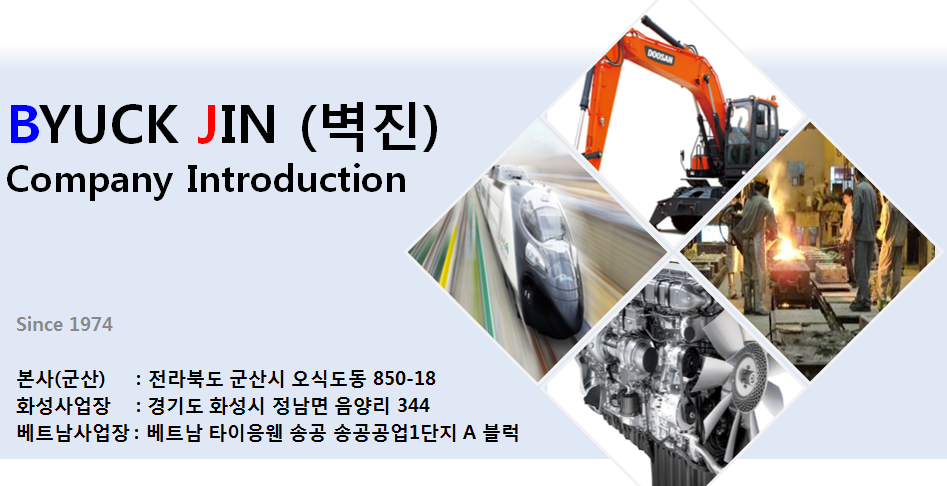 BYUCK JIN and BJSTEEL VIETNAM
Since our establishment in 1974, we have accumulated many achievements and experiences in precision machining for more than 40 years.
Based on this, we have established a casting factory in SONG CONG City, Vietnam in 2012 and have grown to become a company that can improve the value of customers by building a system that can batch produce from casting materials to precision machining.
BJSTEEL VIETNAM and BJSTEEL VIETNAM will continue to play a role as a global company with international competitiveness as a specialized company in the field of casting materials and precision processing.
Thank you.
CEO BAEK SEUNG HARK
• Company Name : BYUCK JIN CO.,LTD
• Head Office : Gunsan 1st plant
• Brach Plant : Hwaseong 2nd plant, BJSTEEL VIETNAM.,CO.LTD
• Main Product :
- Machine Parts to Automoblie Engine
- Construction Equipment, Forklifts
- Railway Vehicles(EMUs, High speed train)
- Casting Valve ( Gate Valve, Butterfly Valve etc)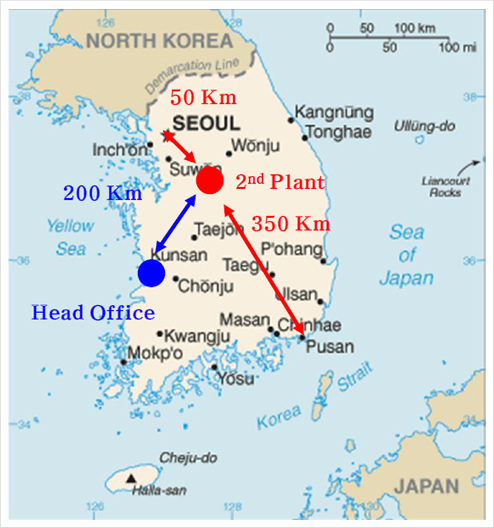 • Head Office : 850-18, Osikdo-dong , Gunsan-Si, Korea
1nd Plant : 850-18, Osikdo-dong , Gunsan-Si, Korea
2nd Plant : 344 Eumyang-Ri, Jeongnam-Myum Hwasung-Si, Gyeonggi-Do, Korea
Oversea Plant : Song cong Industrial zone 1, Thai Nguyen Vietnam.
BYUCK JIN

BYUCK JIN